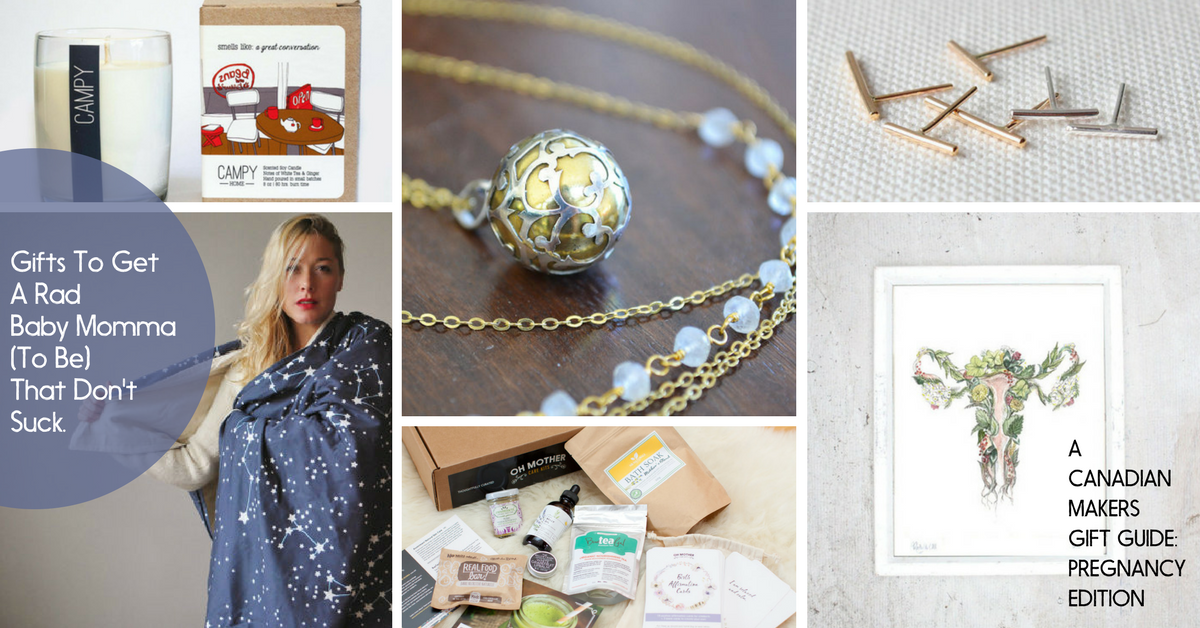 [metaslider id=2160]
Growing a human is superhero-level amazingness. For serious. The human body does some incredible things and pregnancy is a time when we can celebrate the women behind this magic.
So often we don't though. We buy adorable, teeny tiny things for this teeny tiny beings that isn't even here yet and whose ETA is measured in weeks! Talk about build up. Meanwhile, the expectant momma is experiencing an assorted mess of symptoms and side effects courtesy of the extraordinary physical, emotional and hormonal transformations happening in her body that leave her feeling sick, anxious, sore, exhausted, and "coo coo for cocoa puffs".
For the love of everything fair and good – Somebody spoil her with some love and attention, will ya?!
Good thing there's this handy-dandy list of beautiful, handcrafted goodies (from Canadian makers) that offers all the inspiration you need for this quest. Here goes.
Love Buds Jewelry (Charlottetown, PE)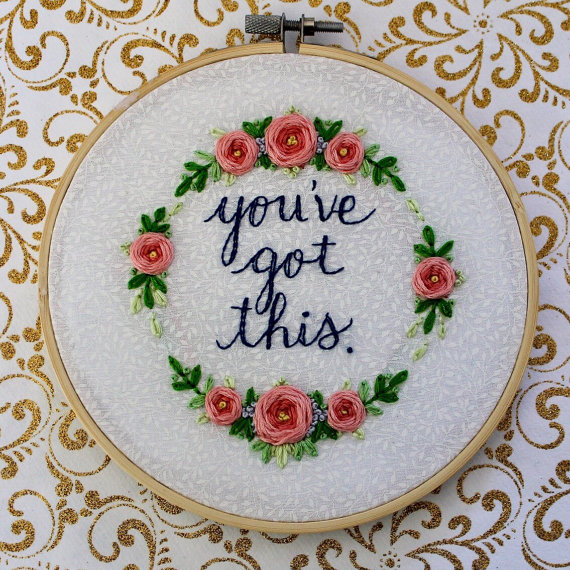 "You've got this" Embroidery Hoop $35 CAD + $4 shipping
This. Yeah. This totally cliche, overused saying is EVERYTHING. It matters and it gets you through. Pregnancy is littered with things to be anxious and fearful of. The what-ifs can be crippling. We all need to be reminded, "you've got this." They are magic words and they will continue to serve her well beyond the pregnancy days.
It also helps that it's pretty, and pretty things make fabulous gifts.
Poison Pear (Halifax, NS)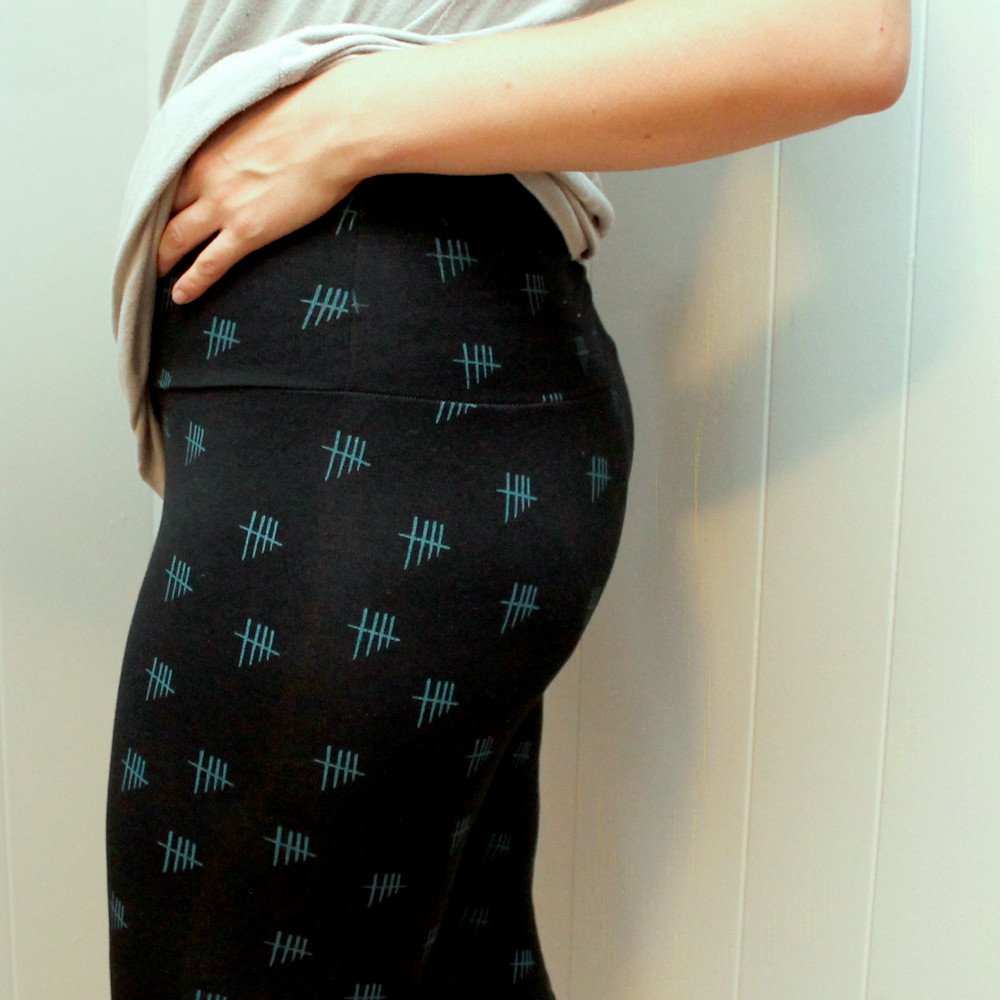 Tally Print Leggings $62 CAD + shipping & tax
Leggings are to mom life what flowers are to bees. Sweet harmony. Case in point, I have lived in tights for the past 2.5 years, during my pregnancy and then now as a mom and entrepreneur. When I wear anything else, my husband playfully asks "hmmm, where are you going?"
A funky and comfy pair of tights is a pretty sweet gift to receive when you're growing a human and they will surely get A LOT of use once baby arrives too!
These tally leggings from Poison Pear are hand-printed, hand-made and certainly all that!
Mathilde Cinq-Mars Illustration (Trois-Rivières, QC)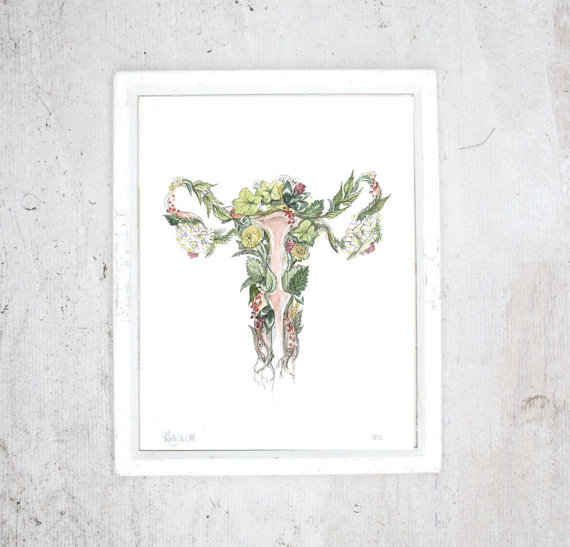 Floral Uterus Print $20 CAD + $3.50 shipping
Alright, this might seem like an odd gift idea but hear me out. I didn't have enough appreciation for my uterus until I was pregnant and whoa, the work it did and the job it held. Holy. I'm indebted to it really. So much love. Perhaps, this isn't a gift for everyone but I can say with full assurance that I would hang it in my house and feel a great deal of pride every time I looked at it. And how many gift items can you honestly say would do that?
Sea Star Pottery (Seaforth, NS)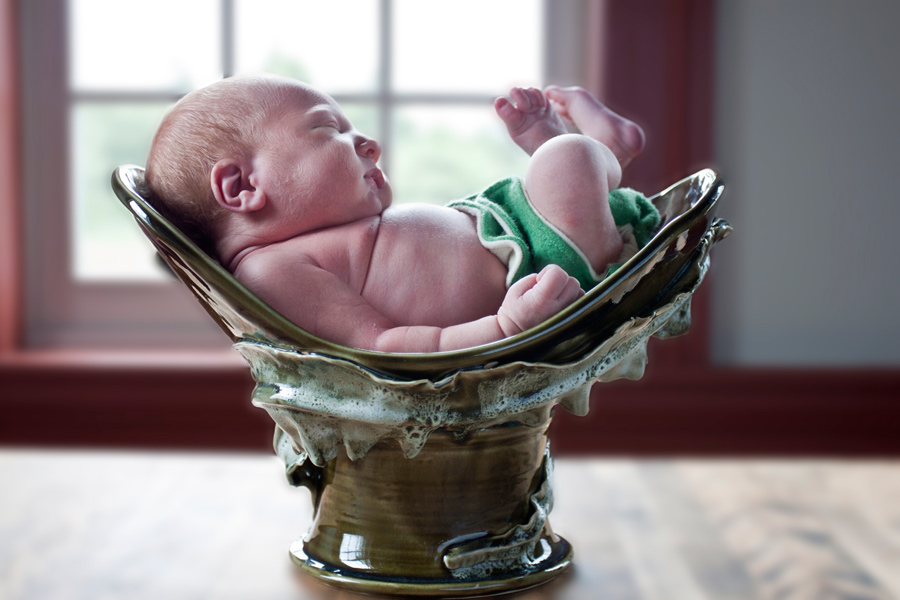 Custom Belly Bowl $325 (price will vary with different ceramists/potters)
This particular studio is located in Nova Scotia but there are ceramists across the country that provide this service and it's an amazing one! I have two gorgeous pottery mugs from Sea Star Pottery (featuring imprints of my son's newborn feet) and I love them (the feet and the mugs)!
These belly casts made into beautiful bowls are such a cool way to honour a momma-to-be and the pregnant body. They also serve as a fabulous prop for a newborn photoshoot and as a gorgeous centrepiece/keepsake for years to come.
Oh Mother Care Kits (Dartmouth, NS)
Soon-To-Be Momma Kit $109 + $9.95 shipping
Growing a human is exhausting and while every pregnancy is unique – one thing is certain, expectant mommas need as much care, rest and relaxation as they can get.
The Soon-To-Be Momma Care Kit contains all the specialty items an expectant momma needs during pregnancy; with a focus on preparing her body and mind for childbirth. And guess what? All the products included are made by Canadian artisan makers with all natural ingredients (so no harsh chemicals, additives or toxins).
Hands down, this is the perfect gift for a soon-to-be momma. From the moment the pregnancy is announced to months after the baby has arrived, there will be a flood of baby-related gifts and offerings. But how many packages will arrive for the expectant momma herself? Probably not many, if any. Be the person whose thinks of her. She will wholeheartedly appreciate and LOVE that you did!
Curious what's in this genius care package? Check it out here!
La Loreley Bijoux (Montreal, QC)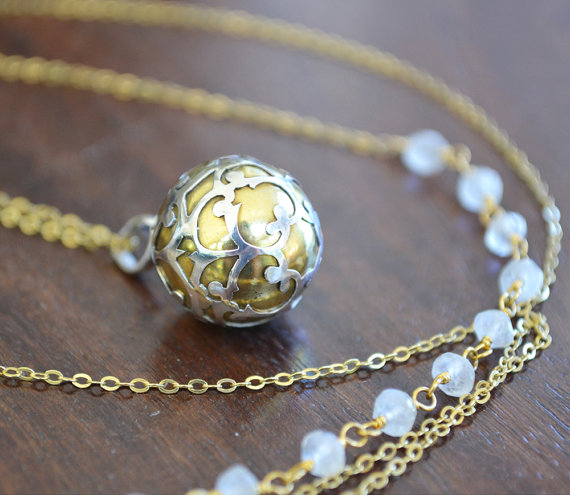 Bola Pregnancy Necklace $113.59 CAD + shipping
These are so lovely and the sentiment behind them is equally lovely. The idea behind the bola necklace is that the pendant hangs low, resting on the belly and resonates a soft chime noise as the momma-to-be moves or walks. It offers a soothing, familiar sound for baby when wore after birth as well.
607 by Davie & Chiyo (Vancouver, BC)
Gold Bar Stud Earrings $76.19 – $131.60 (depending on size, 0.5 cm, 1 cm or 1.5 cm) + shipping
I ALWAYS love receiving jewelry. I mean, jewelry always fits no matter how your belly grows, right?! And these earrings are a gift that will appease anyone woman who appreciates pretty things, not just "mom/pregnancy-related" things.
These gold bar stud earrings are oh-so-lovely and simple. And simple is everything when you're a mom (I mean, pretty is nice but practical is a necessity). Available in gold, rose gold and white gold.
Made with Local (Dartmouth, NS)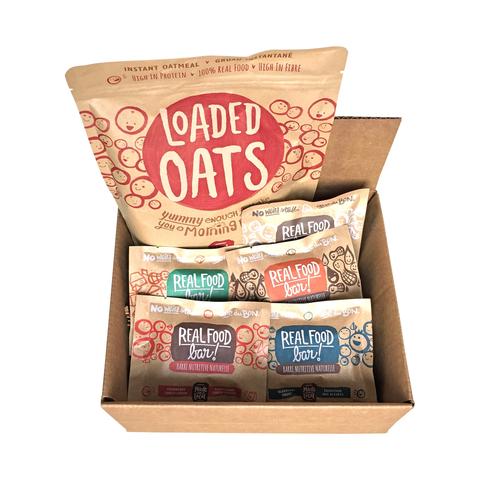 Local Love Box (includes Loaded Instant Oats and Real Food Bars) $30 – $50 CAD (depending on box size) + shipping
Pregnancy hunger is real and vicious. When it hits, you need food in your face fast.
Made with Local real food bars are by far one of my favourite snacks to have on-hand and on-the-go. No weird ingredients here. Their instant oats are a staple in our household too. Breakfast is fast, easy and delicious, which is exactly what you need during pregnancy so you can sleep in for those extra minutes!
Order a sampler box of Made with Local Instant Oats and Real Food bars (they have 3 sizes to choose from) and have them delivered to an expectant momma in your life. Easy Peasy! You will be a hero!
Moving on…OKAY. Let's talk aromatherapy for a second. Lavender, citrus or ginger tend to be the most favourable scents during pregnancy and can help a soon-to-be momma relieve feelings of queasiness or just help her chill and unwind.
Here are three awesome hand-poured, soy wax candles that will appeal to the very discerning pregnancy senses.
Campy Home (Almonte, ON)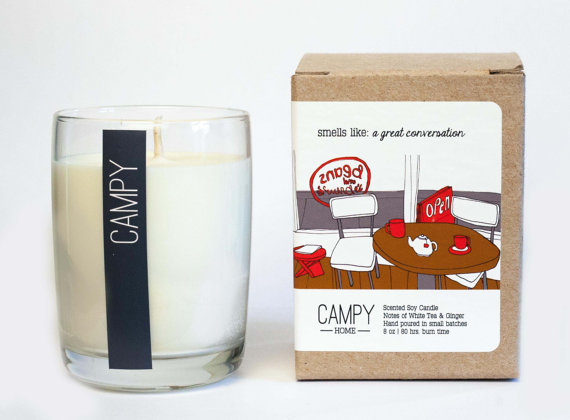 A Great Conversation Soy Candle 8 oz $22.16 CAD + shipping
TNT Candles (Halifax, NS)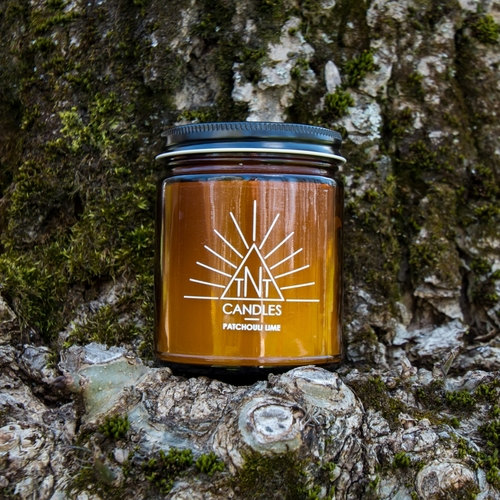 Patchouli Lime 8oz Soy Candle $25 CAD + shipping
Fifteen Co. (Vancouver, BC)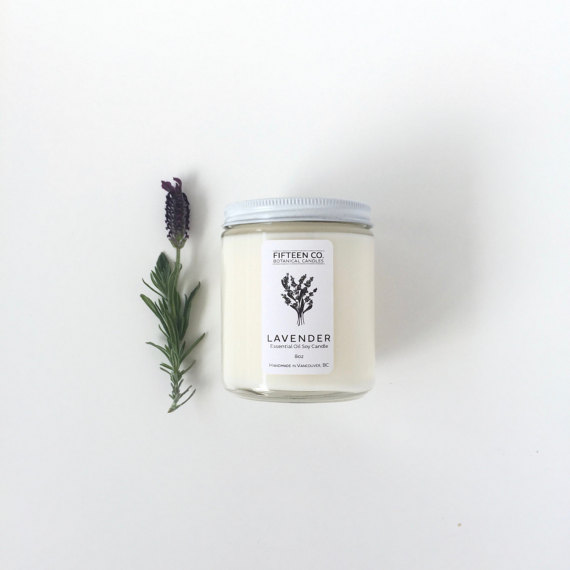 Lavender Essential Oil Soy Wax Candle 8 oz $24 CAD + shipping
Oh Mother Care Kits (Dartmouth, NS)
Birth Affirmation Cards $24.95 CAD + shipping
When I was about half-way through my pregnancy, I had a complete panic that went a little something like this "OH GOOD GOD! This being has to come out of me!"
Needless to say, positive affirmations can be really helpful to combat some of this very real and very legitimate panic that expectant mommas can face. Even mommas who've been through childbirth before will experience the crippling effects of hormone-driven panic and worry.
These 'Birth Affirmation Cards' were created to serve and support expectant mothers in their journey to childbirth and even beyond. These cards have a variety of positive affirmation statements that can be applied to many different birthing scenarios and circumstances. They also reflect the common fears we face and the encouragement we need in pregnancy and further, in the throes of labour and delivery.
This deck contains 18 positive affirmation statements + 3 blank cards to write-your-own affirmations. The cards are printed on high quality (16 pt) card stock with a beautiful matte finish and feature 6 different hand-illustrated, floral designs.
I can guarantee this is a super thoughtful, unique gift that no one else will have thought of it. Bonus points to you!
Pregnancy demands naps. Lots of 'em. Therefore, cozy blankets are a great gift for a soon-to-be momma. They're also great for post-baby, cuddling. Multipurpose.
Make it Cozy Crochet (Waldheim, SK)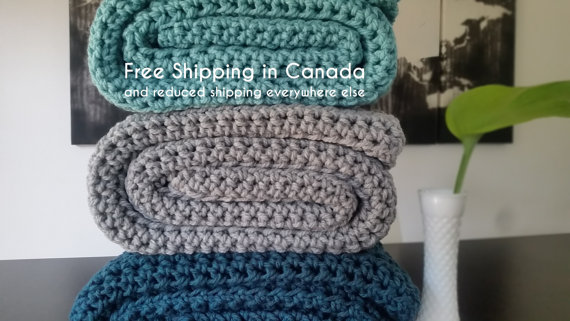 Chunky Crocheted Blanket $140 CAD + shipping
This chunky crocheted blanket is all kinds of cozy and says "Go on…Take a nap" and any soon-to-be momma, especially those in their third trimester, will wholeheartedly appreciate this kind of nap-advocacy.
Sewn Natural (Ottawa, ON)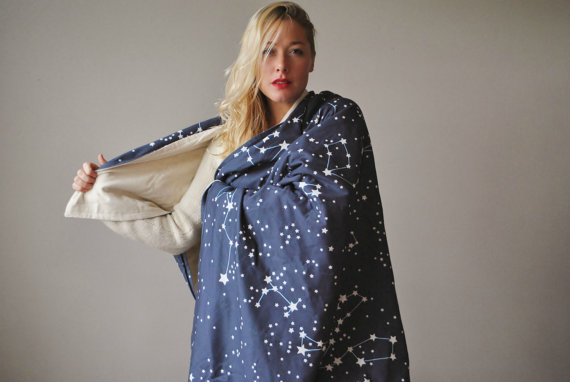 Organic Starry Night Throw $193.93 + shipping
I also LOVE this throw and want it in my life. It feels like one you'll treasure for years to come. The blanket that you'll take on family picnics and cozy up with for breakfast in bed. Give her that.