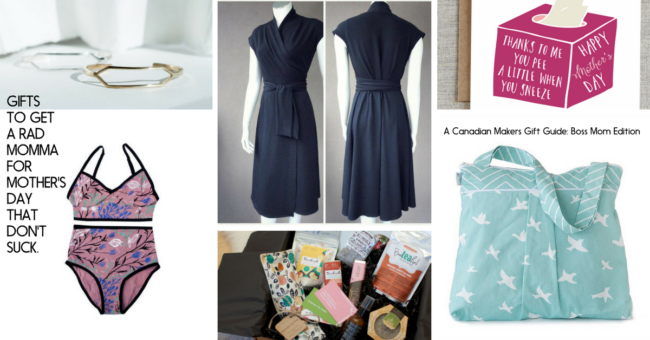 [metaslider id=2288]
Most of us will assert that all we really want for Mother Day's is to feel loved and appreciated by our families and that is gift enough. I mean, of course, obvi. This is everything. And, honestly, mommas should be celebrated and adored all year round. BUT…I'll be the first to admit that presents are really nice. Especially when they're purchases that I know directly support other mommas and their entrepreneurial/creative endeavours, right?!
So here it is! The ultimate Rad Momma Gift Guide that features Canadian businesses run by RAD boss mommas.
Rachel Blair-Johns (Dartmouth, Nova Scotia) – Ment Jewellery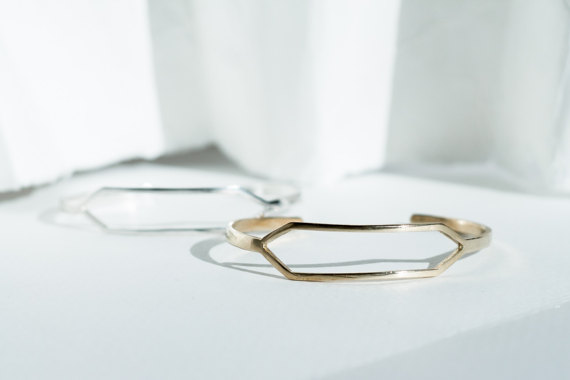 Minimalist Cuff Bracelet $60 (CAD)
WANT!
I have a lot of beautiful pieces of jewellery in my collection that I never wear because they just don't suit my lifestyle currently. I live in leggings and tunics and even if I didn't, I crave simple accessories these days. To me, this bracelet is so lovely that it would make up for my fashion faux-pas and allow me to feel a little more put together.
Amie Cunningham (Halifax, Nova Scotia) – Thief & Bandit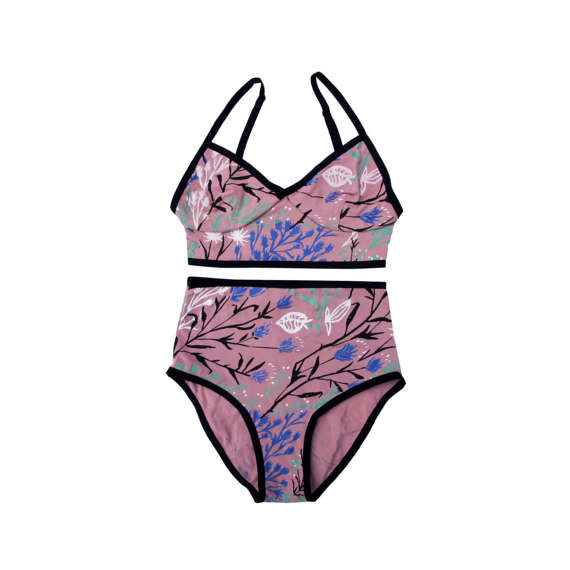 Floral Bralette Underwear Set $114.08 (CAD)
I'm a huge Thief & Bandit fan and I'm fortunate to share a city with this fabulous biz. Amie Cunningham's designs are so-chic, fun and youthful. I feel an instant sense of "cool" wearing them. And as a toddler mom, I have to say that these under garments would be such a treat to wear. I mean, they would certainly put my ratty nursing bras and grey cotton undies to shame. And yet most women (myself included), would hesitate buying something so lovely for ourselves because it feels extravagant or indulgent. I say, f- that! But I also get it. I find myself making a lot of practical purchases as a mom and you know what…this cycle needs to be broken. However, baby steps. Encourage your partner to buy this one. Moms need beautiful, hand-printed, organic "intimates" so I'm in full support of this gift. [Hint, hint, nudge, nudge – Honey.]
Lori Hawkins & Sandra O'Malley (St. Adolphe, Manitoba) – Colibri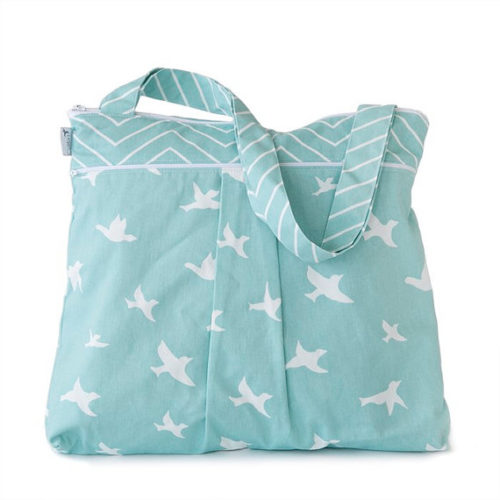 A waterproof tote bag is a summer essential as a momma because EVERYTHING IS ALWAYS WET when you have kids, regardless of whether you're at the beach. BONUS: this tote is all kinds of gorgeous, practical as hell and doesn't scream "mom-bag!".
Nicole Landry (Dartmouth, Nova Scotia) Oh Mother Care Kits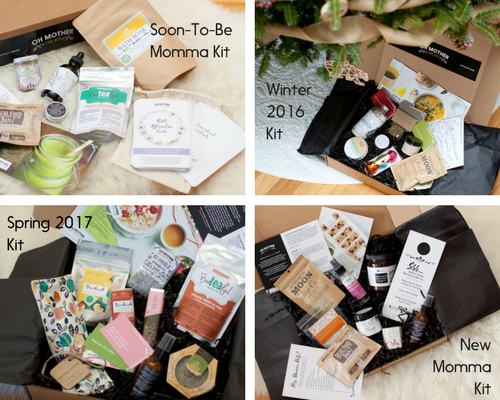 A quarterly subscription (billed and delivered every 3 months) $79.95 (+ $9.95 shipping), An annual subscription (includes 4 kits over the year) $288 + $39.80 shipping OR a one-off kit $89.95 – $119 (+ $9.95 shipping)
Ok…here's where I insert some shameless self-promotion. This is ME! I started this care kit business a year ago and it has been such a ride. The feedback I get from Mommas emailing me to say how much they love their kits, how it made them feel "cared for" and "seen" AH…well, it definitely makes the hard-work and hustle very worth it!
SELF CARE IS SOOOOOOO IMPORTANT, yet, it's so difficult to balance and make time for yourself when you have an ever-expanding list of to-dos and you're fielding shit storms on the daily. Sure, I'm totally bias, but I also think that many women would back me up here, that receiving a beautifully, curated care package of Canadian-made, artisan products every 3 months would be heavenly. And, it's the gift that keeps on giving throughout the year. It's not just a "hey, Happy Mother's Day…here's this thing I bought". It's "Hey! You work damn hard and you're an awesome mom and here's how I'm going to support you beyond this one day!" BAM! Instant hero.
Maria Angela Forioso Fiber Artist (Terrebonne, Quebec)
'Coquette' Macrame Wall Hanging $60 (CAD)
Apparently macrame is back and it's not your grandma's weird plant hanger macrame. It's hip and trendy and makes a statement. I love this one from Maria Angela Forioso, especially for a studio or office space. Yes please!
Caileigh Mintz (Mississauga, Ontario) – Zaytoon Naturals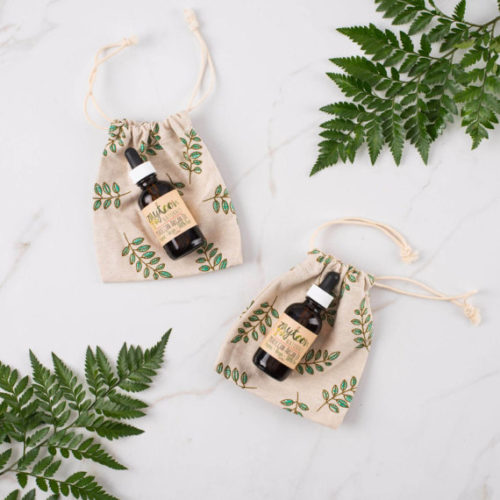 Organic Virgin Argan Oil from Morocco $25 (CAD)
A hair care essential but something I rarely buy myself so I would totally love and appreciate receiving it as a gift.
Jeanette Shearer (Vancouver, British Columbia) – Ava to Zoe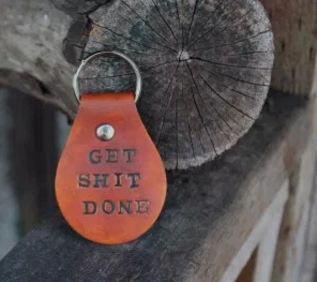 Hand-stamped Leather 'Get Shit Done' Keychain $12 (CAD)
I have one of Jeanette's hand-stamped leather keychains and I love it! And this message is so on point with motherhood. Despite the hustles and odds, mommas manage to get shit done, amirite?!
In addition to being a Leather Stamper, she also makes dream catchers and blogs about mom life over on Ava to Zoe: Our Lives A to Z.
Jill Jackson (Halifax, NS) Jack+ Jill Paper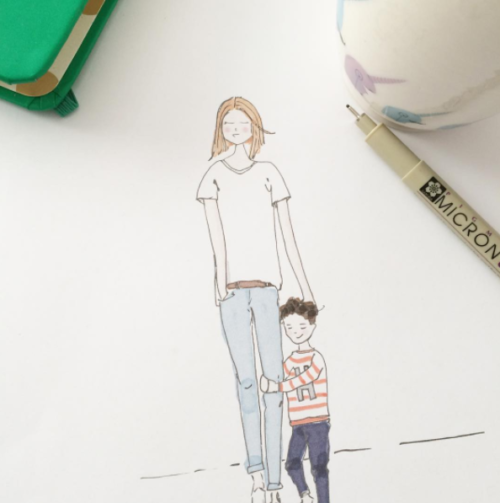 Email Jill at jillandjackpaper@gmail.com
I have had the pleasure of working with Jill on a couple of projects and she's a pure delight and uber talented (and so humble about it). I think a custom portrait is such an amazing Mother's Day gift! However, it does take some time, coordination and planning so get on the horn to Jill now! And really, this sort of thing makes a great, anytime gift for a mom so maybe don't get caught up on the Mother's Day thing. Just do it regardless of a holiday. It will be appreciated and enjoyed for years to come.
Anita Bezanson (Kentville, Nova Scotia) – Rhubarb Paper Co.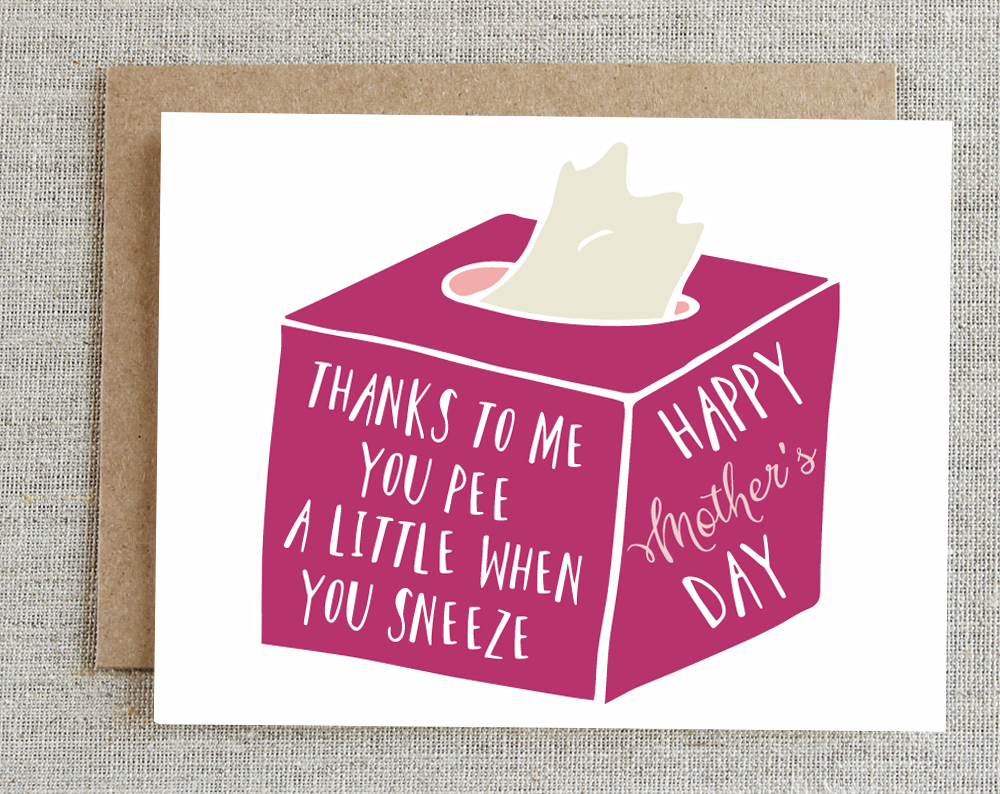 Sneeze and Pee Mother's Day Card $5 (CAD) + shipping
Funny cards are THE BEST! And Rhubarb Paper Co.'s cards make me laugh out loud and sometimes even pee a little when I do…because childbirth is rough. And doesn't this card capture this essence oh-so-well.  Check out Rhubarb Paper Co's full range of greeting cards here. I'm certain you'll find some gems so why not place a bulk order and be prepared well in advance for multiple upcoming occasions.
Natallia (Toronto, Ontario) Econica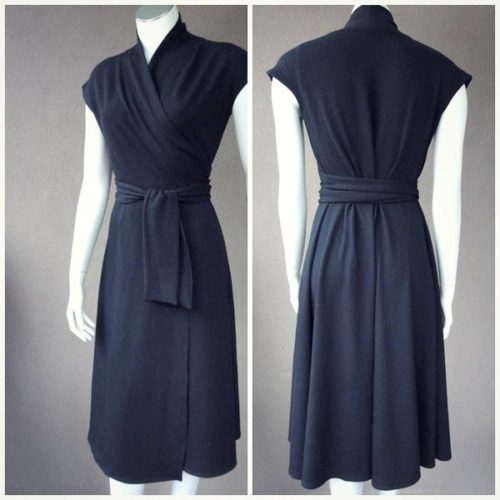 I can imagine this dress to be the "go-to" dress-up dress for almost any occasion. It's simplicity is what makes it great. Also, the fit and style would look fabulous on any body type.
Kait DeWolff – Kait Creative (New Westminister, British Columbia)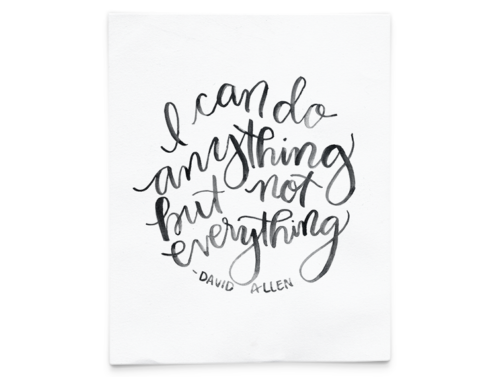 I can do anything 8 x 10 Print $20 (CAD)
Yes! This is something I need a constant reminder on, and other moms, yeah – I know, they feel it too. The pressure to be it all and do it all. It's real, it's overwhelming and it's BS.
This beautifully, hand-painted calligraphy print has a grounding effect that I believe most mommas will connect with and thoroughly appreciate.
Brazen Edwards (Kelowna, British Columbia) – Brazen Design Studio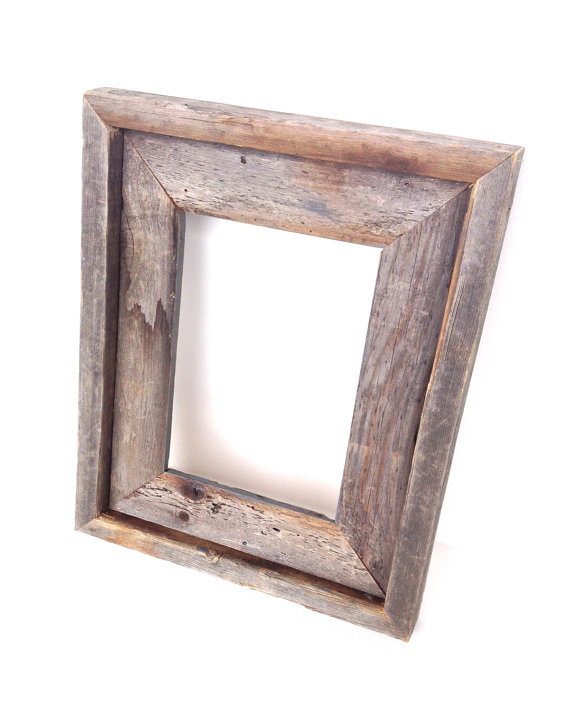 And hey! I've even found a really cool up-cycled barn board frame from designer Brazen Edwards to go with the "I can do anything…" print. You're welcome 😉
Rustic Grey Real Barn Wood Frame $69.56
Happy Mother's Day to all the Rad mommas out there!