"One of the best part about these kits is that Nicole Landry (the beautiful woman behind the brand) has made kits to support or encourage any woman. She has a seasonal (every 3 months, 4 times per year) subscription program that is amazing for any woman – mom or not." —- Chelsea & Lauren, from JaneandShelin.com ———-> Read the full feature here.
"I think it's so wonderful that all of these products are from Canadian makers, and the quality shows.  I even sent a box to one of my besties who just became a new Mama this past Winter, and she loved it!  It's so important to take some "me time", and pamper ourselves!" —- Kelsey, from The-FarmersDaughter.com ———-> Read the full post here.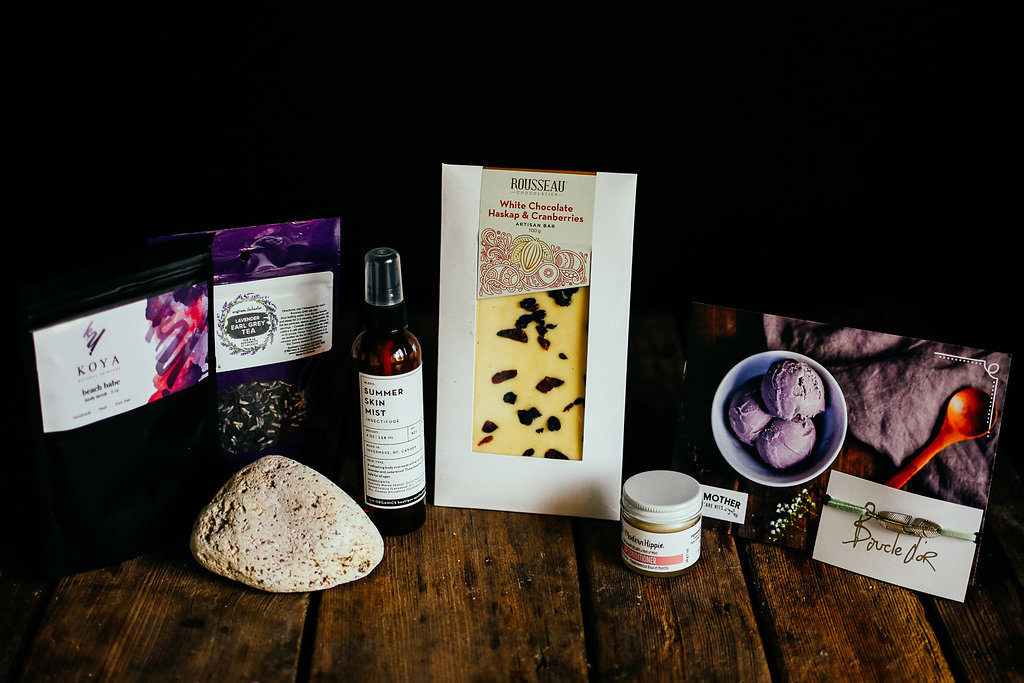 Check out Jen from PrairieGirlInTheCity.com Unboxing our very popular Spring 2017 Care Kit. Read her blogpost review here.
"After my at-home spa session, I was busy searching out all the new brands I'd been introduced to through the Oh Mother Care Kits and seeing what other goodies they make. A lot of these artisan-made products I would never have found if it wasn't for all Nicole's hard work in searching out and testing market-fresh products from across the country!" — Stephanie from Mommyzoid.ca ——-> Read the full post here.
"Oh Mother Care Kits make me happy. They are a breath of fresh air. I love the natural self-care products, I love that they focus on Canadian companies, and I love that we get treats! They really do an amazing job putting this box together. Their packaging, logo, and marketing materials are gorgeous. They really set the tone for the box." — Sarah (A Year of Boxes). Read the full Winter 2016/17 Care Kit Review.
Featured on CanadianLiving.com as the #4 "WINNING GIFT IDEA: SUBSCRIPTION BOXES FOR EVERYONE ON YOUR LIST" By RENÉE REARDIN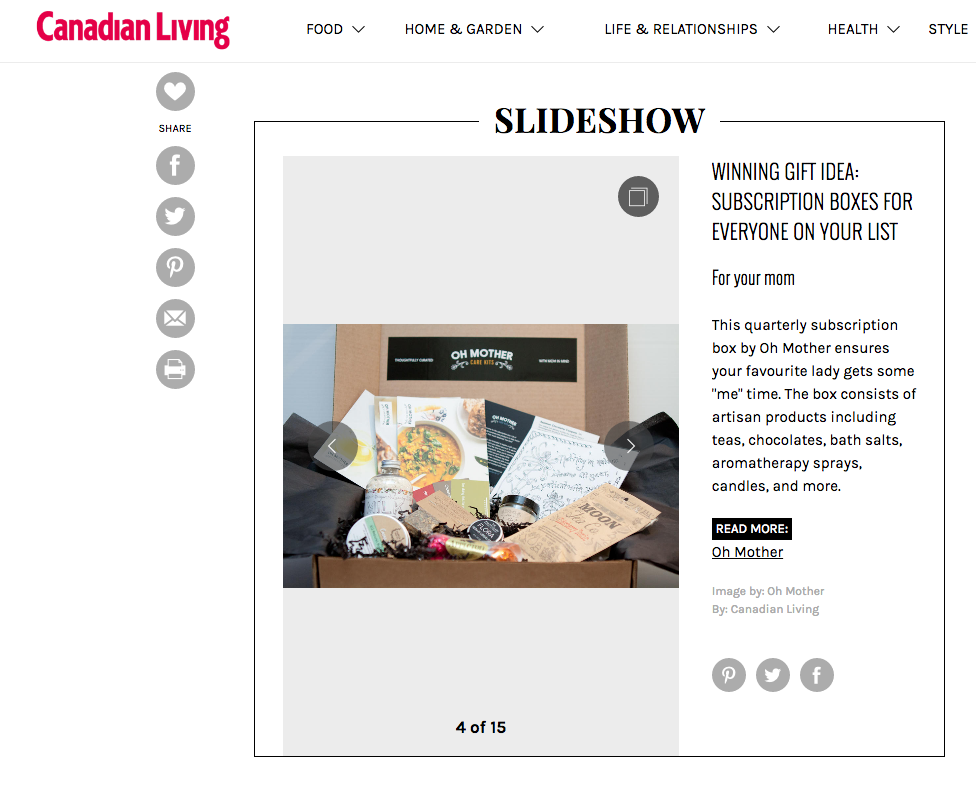 Unboxing Video from Thanh – Mommy Blogger at Love and Sundays
Just a little unboxing video of my Oh Mother Care Kits and a little chit chat about "me time" ?

Posted by Love and Sundays on Wednesday, October 19, 2016
"OMG! The Fall Oh Mother Care Kit is absolute perfection! I am seriously loving everything about this box." – Sarah (A Year of Boxes). Read the full Fall review.
"But, then in the mail came a package. It was called 'Oh Mother Care Kit'…It was everything I needed all in one box to make me feel like a person again instead of a milk machine and lifeline to my family." – Wild Rose Buds. Read the full post, Oh Mother Care Mom Time.
"I often tell myself, You can't pour from an empty glass. I am not a good maman, a good partner or a good friend when I am rundown and overworked and unhappy. I cannot take care of anyone else if I am not taking care of myself. This care kit puts self-care at the top of your to-do list, where it should be." – Maman on the Trail. Read the full review here.
"This box is great and obviously meant for mothers, but it's also great for any woman who could use some quality me time".  – Girl Meets Box. Read the full review here.
"This little kit will be a way for me to take some time for myself, which is something I desperately need to do. I am in LOVE with this new subscription and am so proud that they are based in Canada" – Sarah (A Year Of Boxes) Read the full Oh Mother Care Kit Review June 2016
"Oh Mother Care Kits would be a FABULOUS gift for a mother in your life as a one off gift box or even a quarterly subscription. I'd especially support a one off or subscription for YOURSELF." – Ecoyogini Read the full Oh Mother Care Kits- A Review!
April 7th, 2016 – The Coast "Special Delivery – Oh Mother Care Kits."