This fall season has been complete madness for me. I'm not complaining. I love running Oh Mother and it allows me to work from home and be a full time momma to my tot. However, sometimes, it's a lot to juggle and I get overwhelmed.
The one thing that I've always fallen back on when I'm at peak self-destruction/burnout (at least for the passed twelve years) is a yoga practice. It saves me, every time. I'm only human and believe me, I can run the gamut of excuses on why I don't have time for yoga but eventually, there is voice of rationale thought in there that shakes some sense into me, prompting me to "smarten up, and do this for myself! It's 20 minutes!" Then, I find myself back on my mat, and it feels good.
Me and yoga didn't exactly have the fairytale, love at first sight beginning. I hated my first yoga class back in university. Maybe it was just the phase of life I was in but I think it had a lot to do with finding the right teacher. I did try other classes but I couldn't seem to find one that felt really good.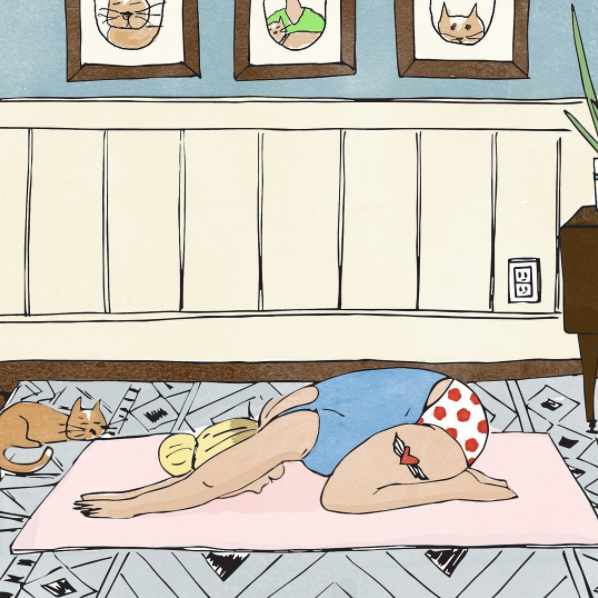 Several years later, I was working in a research centre and was introduced to yoga in the workplace, lead by Katrina. She came in once a week, on our lunch hour to lead a small group of us in a yoga class. Katrina changed my entire view of yoga and my body. Her style was gentle and welcoming. She provided excellent guidance but emphasized the importance of moving my body in a way that felt right for me. The point was not to do the yoga poses to perfection but rather to the tune of my body's needs. This revolutionized yoga for me.
Since then, I've attended many more of Katrina's classes as well as other yoga classes with different instructors. The thing is, having worked with Katrina, I feel more empowered to do what is right for me and go at my own pace because she invited me to consider myself in every yoga movement I do. It was a simple invitation but profoundly impactful. I now seek out teachers who allow for this type of self-awareness in yoga.
Over the years, I've worked with some amazing instructors who have helped me to expand my practice and support me through big transitions like pregnancy, childbirth, postpartum healing and motherhood.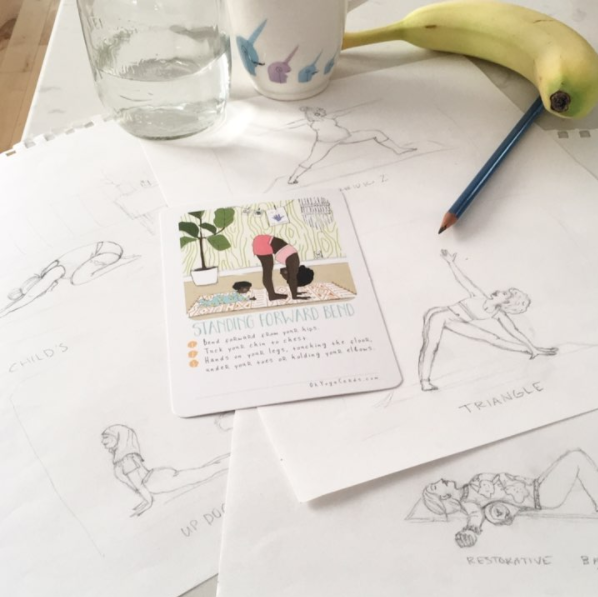 My love of yoga and my passion for supporting women is what prompted, Oh Yoga Cards.
Working in collaboration with two incredibly wonderful and talented local (to me) women, Katrina Crowson (yes, the very same Katrina!) and Jill Jackson (Illustrator at Jill + Jack Paper), we have created the ultimate home-yoga practice companion!
For any of you who received a Fall Care Kit, you'll be familiar with this project. 🙂
For the rest of you, let me tell you a little more about Oh Yoga Cards.
Oh Yoga Cards is a deck of 20 hand-drawn yoga pose 4″ x 6″ flashcards. Each card includes a visual (hand-drawn by the talented Jill Jackson), provides simple instructions on how to get into the pose (front) and then on the backside of each card, you will find Benefits, Considerations and Options listed. The deck allows you to mix and match your cards to create your own yoga flow by following our suggested PreForm and PostForm  postures to do before or after the card in hand.
The vision for this project was to create fun and friendly yoga visuals that reflect real women and real bodies. The cards support women in a home yoga practice that is accessible and easy to integrate into your everyday life and routine.
I know there are other women like me who struggle to put their own needs on the map. Yoga is such a fabulous way to take some time for yourself. Committing to a class outside the home is great if you can swing it but having a basis for a simple home practice that can be done whenever, wherever is pretty rad!
These cards can be pinned up on a wall or spread out on the floor in front of you. No need to boot up an ipad, computer or YouTube video. All you need is right there on the cards.
I've been craving cards like these for a long time. The yoga cards I've seen on the market are super boring, drab and intimidating because the figure illustrating the pose is usually ridiculously fit and flexible or doing the posture to perfection. Let's face it, most of us are not at that level. I want yoga cards that reflect my yoga goals, which are to stretch my body in a way that feels right and good for me (and usually this means I'm surrounded by toys and mess and clutter but as the Oh Yoga Card illustrations show, we all need to do what works for us!)
We created these cards because we want women to want to practice yoga, because you like it, and it benefits you. When you are well taken care of, you are a better caretaker and all around happier human.
Currently, we are finalizing the cards and sending them to print in the next couple of weeks. Because this is a small, passion project (albeit, we hope it will grow momentum and popularity), we'll only be producing a short-run of these to start.
Preordering a deck means that you will save $10 and ensure that you get one! The decks will be ready to ship by mid-November (just in time for the holidays). And need I say, how great of a stocking stuffer these will make! The PreOrder sale of $19.95 will run until October 27th.
Click here to Preorder your OH YOGA CARD deck!