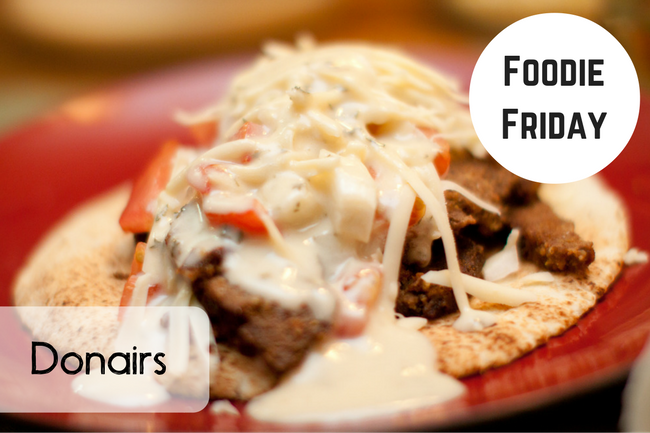 This is a recipe passed to me by my dad who got it from the owner of a pizzeria in the town where I grew up.
Depending on where you live in Canada, you might be thinking "what the heck is a donair?!" And this is a fair reaction because they are quite unique to the East Coast. We're kinda a little famous for them. It's one of those things you try when you visit.
In short, a donair is sort of like a "shawarma" or a "gyro" in that its a pita stuffed with delicious spiced meat, veggies and a tangy sauce, but it definitely has its own distinct characteristics.
Firstly, it's a messy ordeal. So many napkins are needed. There's no polite way to eat a donair. You just have to commit to the experience and release all inhibitions. Secondly, it's not healthy. Not in the slightest. Sure, it has tomatoes and onions but any nutrition there is completely cancelled out by the mount of beef, cheese and donair
sauce (a sugar and condensed milk combo) slathered on top.
Just to create the vision for you. When you order a donair at a pizza joint in Halifax, they will first grab a pita (oversized with so much doughy goodness and usually warmed). The pita is then filled, and I mean filled, with strips of meat shaved off a giant hunk of spiced rotisserie meat. The amount of meat weighs approximately that of a plump 6 month old baby. This is then topped with chopped tomatoes, onions, shredded mozza cheese and the finishing touch, lots and lots of white sauce, the donair's namesake. It sounds completely unappealing, I know but…ask any East Coaster living away what they miss most "back home" and donairs will be in their top 10.
Admittedly, the majority of my donair consumption happened in my first two years of university, after some overindulgence of spirits and dancing. Donairs are in that category of foods.
However, as a full fledged grown up, whose days of grinding on the dance floor to Ginuwine's Pony are done (thank goodness!), I still thoroughly enjoy the occasional donair and being the foodie that I am, I like to make my own from scratch. Largely, because I'm now weirded out by the questionable nature and origin of the spinning rotisserie of meat in the late night pizza joints.
For those who know and love the donair, this recipe is a treasure, a holy grail of late-night nostalgic eats. For those yet to experience a donair, this is your window of
opportunity; a food adventure that I urge you to take.
We recently made a feast of donairs as a bon voyage meal for two friends who are moving to Montreal. The theme was donairs and donuts to commemorate the occasion with in Maritime fashion.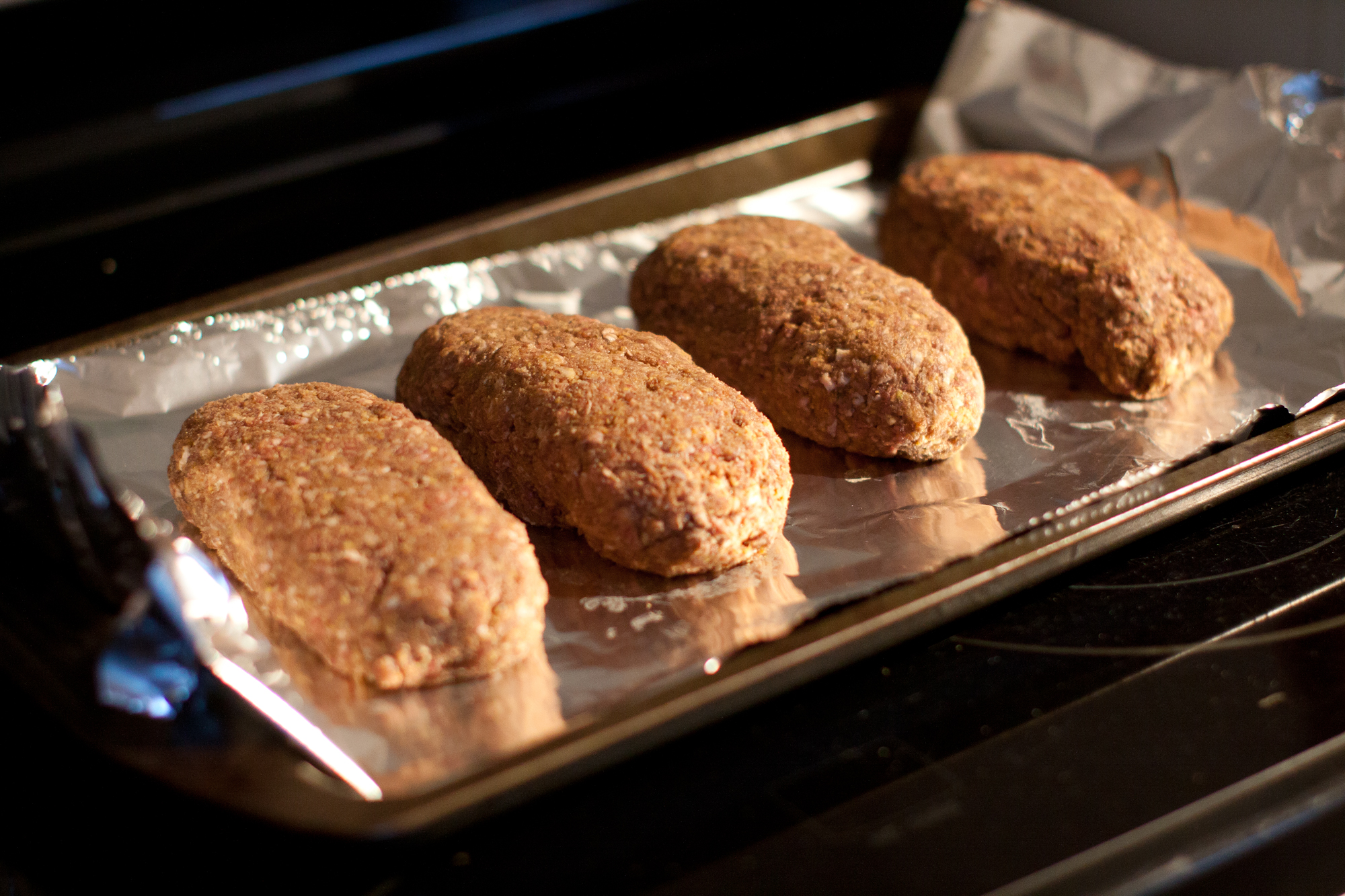 For the Donair Meat:
3 lbs ground beef
2/3 cup bread or cracker crumbs
1 teaspoon cayenne pepper
3 teaspoons paprika
1 teaspoon onion powder
1 teaspoon salt
2 teaspoons oregano
1 teaspoon black pepper
2 teaspoon garlic powder
You will also need Pita bread, tomatoes (approximately 2 large, 3 medium) and 1 large onion
Directions:
Preheat the oven to 300 F
In a medium bowl, mix all the spices with the bread crumbs. Add this mixture to the ground beef and continue mixing for a few minutes. It should get a little sticky. The key is to work the mixture and get it really compact. To do this, you can remove the entire mixture and slam it down onto the counter or into the bowl several times.
Shape the meat mixture into 2 loaves and then again into 4 loaves. Line a cookie sheet with tin foil. Place the loaves on the baking sheet and cover loosely with a second piece of tin boil.
Bake for 2 hours in preheated oven or until cooked through.
Remove from oven and set aside to cool for at least 30 minutes. The meat will slice easier if it is completely chilled. It can be made the day before and kept in the fridge or you can freeze a loaf or two for later.
Donair meat can be sliced and reheated in the microwave, oven or frying pan before serving.
For the Donair Sauce:
It is REALLY IMPORTANT to mix all the ingredients listed below BEFORE adding the vinegar. The sauce will not thicken if the vinegar is added before the milk and sugar are mixed well.
1 can of regular evaporated milk (DO NOT USE fresh milk or skimmed evaporated milk!)
1 cup of white sugar (we use cane sugar and it turns out great)
1 teaspoon garlic powder
2 tsp parsley (optional)
Mix the milk, sugar, garlic powder and parsley with a whisk in a medium-sized bowl. SLOWLY add the 1/4 cup of vinegar to the milk mixture and stir until thickened. Chill for a few hours.
Dip each pita bread in water and heat in non-stick frying pan. You can also wrap pitas in clean, wet dish towel and microwave for about 1 minute (maybe less).
Load donair meat onto pita bread, add chopped tomatoes, onions and shredded mozza cheese (optional). Top with lots of donair sauce.
ENJOY!!!
***These were the donuts we had post-donair scoff (From Honey and Butter, Dartmouth, NS). Cait is a master creator of delicious cakes and confectionary. These were yeast stuffed donuts, with pastry cream and a "boozy chocolate situation" (Cait's wording). They did not last long.