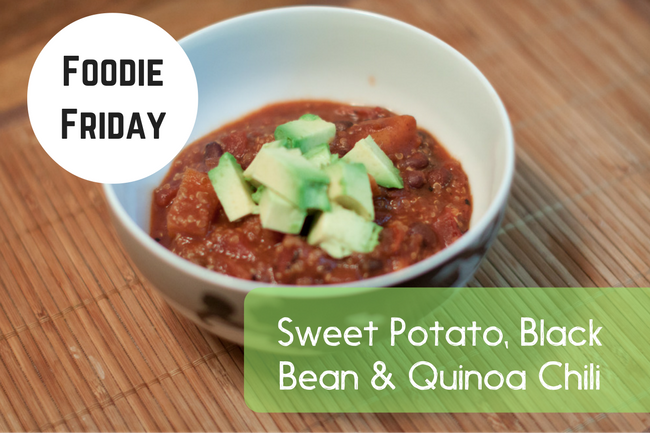 Chili is just one of those perfect cold weather meals, isn't it? It's also ideal for batch cooking because it freezes well. This particular recipe is done in the slow cooker so it's great for busy families. Put it on in the morning (or even mid-day) and it's ready for dinnertime.
You won't even miss the meat in this chili because the quinoa provides a great amount of protein, substance and texture.
We make this chili every few weeks and freeze it all right away for a quick, hearty go-to meal during the week. Our 16 month old likes to eat his with toast fingers and we like to have tortilla chips with ours.
When we're batch cooking on the weekends, we usually have a few recipes on the go (one for the slow-cooker, one in the oven and one on the stovetop). There's a lot going on at once so I like to lay out the ingredients for each recipe on the counter to ensure I don't forget something. This isn't foolproof though because I still forgot the red pepper in this particular run of the chili. Oops. It was still delicious though.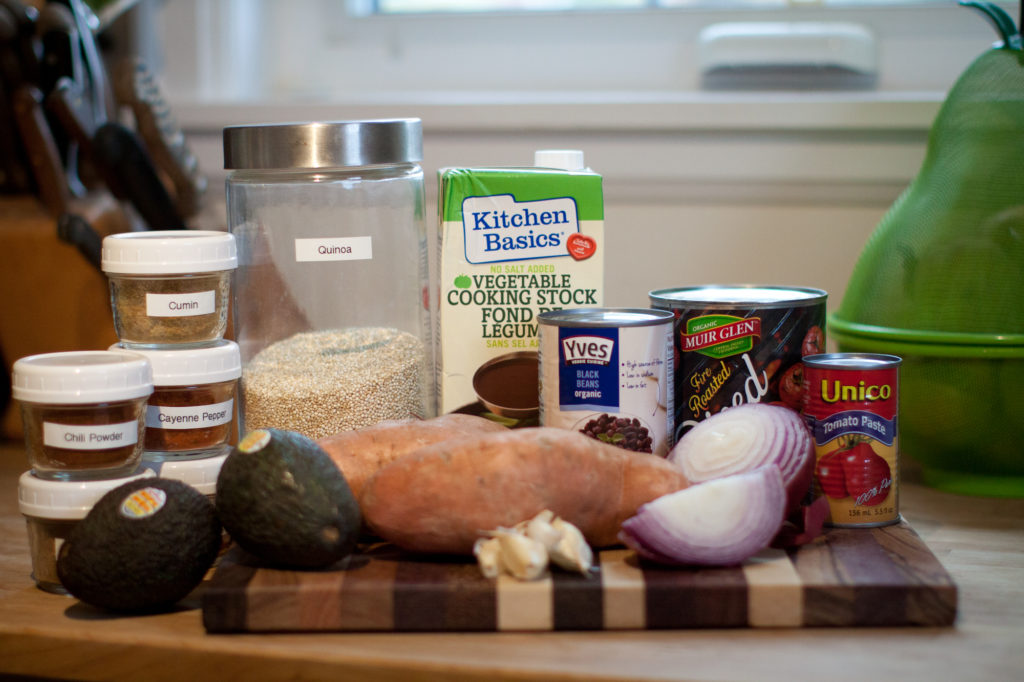 INGREDIENTS:
1 large or 2 medium sweet potatoes, peeled and diced in 1″ cubes
1 small red onion (or 1/2 med), diced
1 bell pepper, diced
4 garlic cloves, minced
1 (15oz) can black beans, drained and rinsed
1 (28oz) can diced, fire-roasted tomatoes
4 cups of low-sodium, vegetable broth (1 carton)
1 (5.5oz) can tomato paste
1/2 cup of quinoa, rinsed
1 tablespoon chili powder
2 teaspoons cumin
2 teaspoons paprika
1 teaspoon coriander
1/4 cayenne pepper (more if you like spicy)
salt and pepper to taste
Put all ingredients in the slow cooker, starting with the broth. High for 4 hours should be adequate but typically when we make this, ours is on for 4 hours on high and then an hour or so on low until we eat.
Serve with tortilla chips and top with avacado/guacamole, sour cream, corn and/or shredded cheese.
Bon Appetite!