I love a good baby shower, a mid-afternoon social time with lots of delicious food and a chance to goo and gaa over the adorableness of baby clothes and accessories. Yes, please.
Speaking from experience, based on my own baby shower, it's wonderful to be showered with cute outfits, booties, baby blankets, rattles and all things teeny tiny, but sometimes you end up with duplicates, excess or things you'll never use.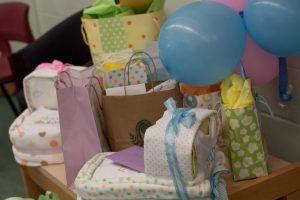 Most baby showers are completely focused on the baby. To be honest, I've always felt a little disheartened by this because it feels like a missed opportunity to pamper and celebrate the woman behind the bump. I loved my baby shower and all my baby shower gifts but there is one gift that stands out in my mind because it was the only one that was intended just for me. It contained some beautifully packaged herbal postpartum bath salts, a lovely soy wax candle, some handcrafted body butter and a little canister of delicious herbal tea. I was so touched! I remember everything in it and I will never forget the person who gave it to me.
So many people do the same baby shower gifts; the predictable baby shower gifts. However, it can be nice to think outside the box a little and get something just for the mama-to-be. There are always one or two attendees of a baby shower who do this and trust me, their gifts stand out among the rest, both to the guest of honour and her guests. They probably wish it was them who thought to get something just for the mama-to-be.
Of course, the challenge of what to get for a baby shower gift is elevated when it's a mom who's expecting her second, third or even fourth baby. She likely already has everything she needs.
This is why the best baby shower gift for the mom who has everything or the mom who's becoming a mom for the second, third or fourth time is an Oh Mother Care Kit.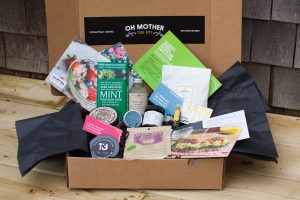 A thoughtfully curated care package containing a beautiful array of quality, artisan, natural care products from Canadian makers. Items such as teas, chocolate, bath salts, foot soaks, body scrubs, face cleansers, hair products, hand poured candles and more. We spend hours curating just the right products, lovingly packing the boxes and shipping them direct to deserving moms and mamas-to-be across the country.
Order your Oh Mother Care Kit today. Your gift is sure to stand out among the rest.