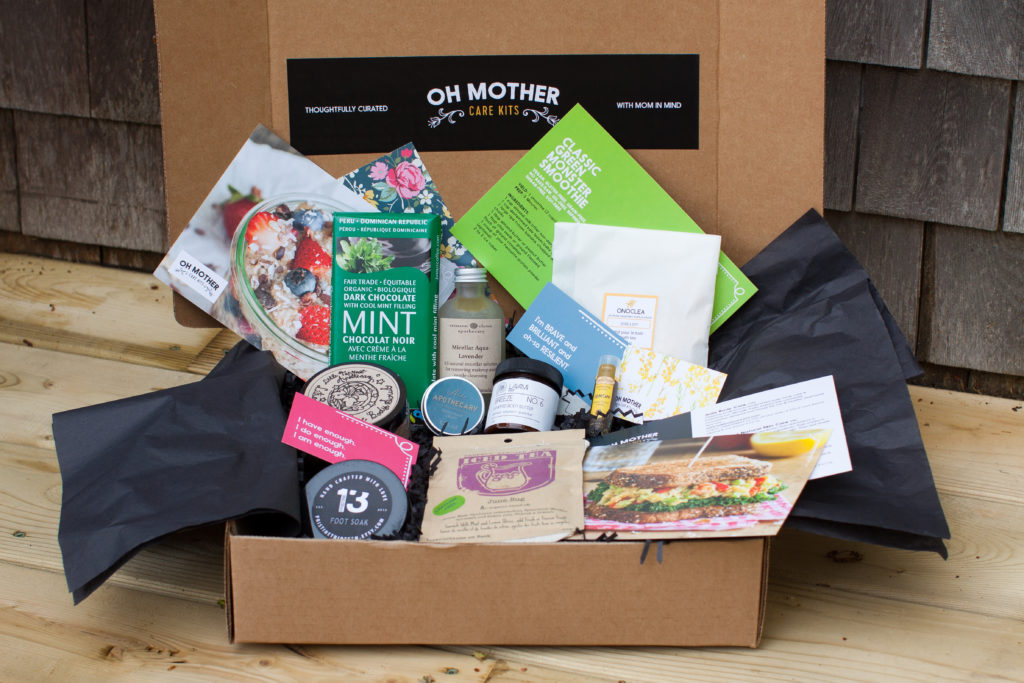 It's time for the big reveal, a moment I have been eagerly awaiting for months. Since this is Oh Mother Care Kits inaugural box, I spent a lot of time searching for the perfect products to feature. I wanted everything to be just right and of course, reflective of the summer season and all things refreshing and rejuvenating.
I held some focus groups with friends to get feedback on all the elements of the kits and in addition to testing out products myself, I also recruited friends and family to try out various items as well. It was a process but to be honest, it was pretty darn awesome. Having to test out many amazing, artisan care products hardly felt like work. I indulged in luxurious baths, aromatic showers with decadent sugar scrubs, tea, chocolate and snack tastings and my skin has never felt so soft and smooth from slathering on whipped body butters and lotions.
Narrowing down my selections for the Summer box was so difficult. Luckily, I have more care kits to curate over the coming year, so there is definitely more amazingness to come. I've already begun working on the line up for the Fall and Winter kits, which I am really excited about!
Spoiler alert: If you are awaiting a recent purchase of an OMCK subscription or kit or are planning to get one soon, you may want to avert your eyes now if you wish to maintain the element of surprise upon your unboxing.
Let's get into it, shall we?! Starting alphabetically.
Aide Apothecary Natural Cream Deodorant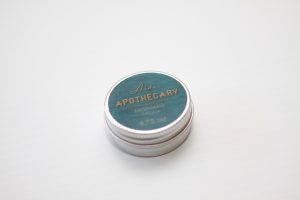 I have been in search of a great natural deodorant for a long time. I've tried many varieties but never landed on one that really worked well for me. Full disclosure, I sweat, a lot. I always have. My childhood best friend and I share this lovely physiological feature. It was worst in high school, neither of us could ever wear grey and well, you know what teenagers are like. It was incredibly embarrassing to be caught with wet pits. Ekk!
As an adult, I've learned to accept this unfortunate feature and a good, natural deodorant definitely helps with this acceptance.
This natural cream deodorant is not only a fabulous size to have on the go with you, in your purse, gym bag or diaper bag. It smells so lovely and lasts the whole day. I've used other natural deodorants before that have worked but require a mid-day re-apply. Not this one. It has some staying power. This I love!
Anointment Lemon Lip Balm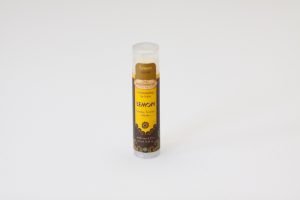 Funny enough, April, the owner of Anointment Skin Care, former homestead is my current home. We bought this house from her and her husband 5 years ago. As a successful and respected local business woman, April is well known in this neighbourhood and the surrounding city. Because of this, I meet people who automatically know my home as "April's old house!". I love that this house has lots of positive mojo, for business vibes but also for raising children. April and her husband had three children in this house.
When I began planning for Oh Mother, I knew I wanted to include Anointment products. I use many of their baby products on my son. Their baby balm is incredible! It just feels great to feature Anointment in this box and I think the lemon lip balm is just the right thing for summer. Wouldn't you agree?
Crimson & Clover Apothecary Micellar Aqua – Lavender
This was one of the last products I chose for the box. It was sort of a last minute decision, but when I tried it, I couldn't not include it. It is not only versatile in its dual application use as a gentle cleanser or make-up remover but it leaves your face feeling so refreshed and soft.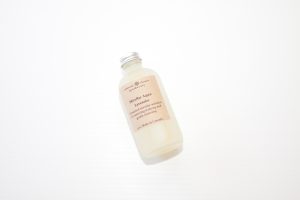 I don't experiment with a lot of face products because I have relatively sensitive skin. This micellar aqua is really gentle and the lavender scent – yes please! So calming.
Lavami Breeze Body Butter
I have a container of this particular body butter in my living room. I use it frequently on my hands, elbows and feet but sometimes I just like to open it and take a big inhale of its delightful scent. It is heavenly. Such a beautiful combo; lavender, grapefruit and bergamot.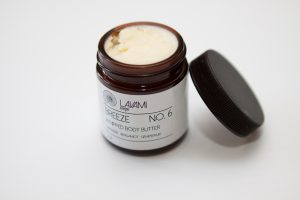 Also, the texture of Lavami's body butter is perfection. I've tried many body butters but this is probably one of the best I've experienced.
Little Taproot Apothecary Litsea Cubea & Rose Body Scrub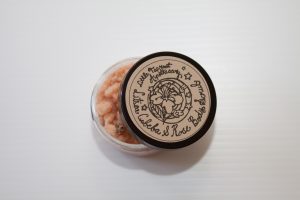 I think one of the unintended themes of this care kit, besides summer is blissful scents. This body scrub from Little Taproot Apothecary smells amazing.
When I first started communicating with Emily, the owner and creator of all the wonderful treasures that this shop has to offer, I felt instant synergy. Everything about her products are just so carefully considered, especially the gorgeous hand-drawn labelling. I know you will adore this body scrub as much as I do.
New Moon Tea Co. June Bug Iced Tea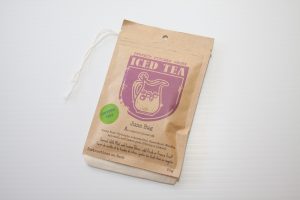 I am in love with New Moon Tea Co. I've had the pleasure of trying many varieties of their teas and every one has met my high expectations. I am definitely a tea lover and I know what I like.
From the moment I opened the packaging to experience my first cup of New Moon Tea, I was so impressed by the quality of the ingredients. Christine and Mike grow all their tea ingredients organically on their farm in Chilliwack, BC. They do not add flavour, colour or preservatives to their tea blends, and it shows!
You will definitely be seeing more from them in my future care kits but for summer, I knew their June Bug iced tea would be the perfect addition. It is a blend that is caffeine-free, safe for children and pregnancy. I am officially addicted to this tea. It is my go-to refreshment on a warm day.
Onoclea Joy Bath Tea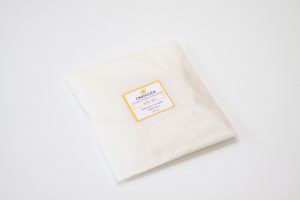 Yet another blissful scent from Onoclea. Not only was Krystal, the owner and maker a delight to work with but she has created simple but lovely body care products that really activate the scents and transform your mood. This joy bath tea will undoubtedly help brighten your spirits after a busy, stressful day. Just pop it in the bath with you, let it steep and Voila! Joy is upon you!
Pristine Thirteen Vanilla Coconut Foot Soak
Summer is open-toe shoe and sandal weather, right?! Well, this Vanilla Coconut foot soak is the perfect indulgence to get those feet ready for their debut. The smell is divine and you will love how soft your feet feel after a good soak.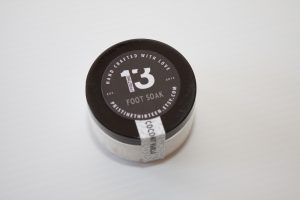 After a tiring day on your feet, you need some time to unwind. I love baths but sometimes I just don't have the time or energy. I can grab a basin of water and pour in some salts and even fold laundry while my feet get a much-deserved pampering.
Just Us Mint Chocolate Bar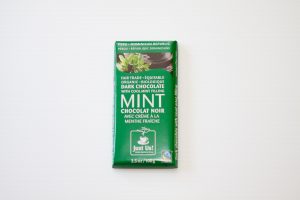 No care kit is complete without chocolate. There have been a few times in motherhood thus far that dark chocolate has saved me from a epically fowl mood. Just Us is a local (to me – in Nova Scotia) coffee roasters coop whose motto is people and the planet before profits. They have direct relationships with fair trade organic producers of coffee, tea, sugar and chocolate. Four of my favourite things! This mint chocolate bar is a go-to treat for me and I think, perfect for the summer months with the cool mint filling.
3 Inspiring Mantra Cards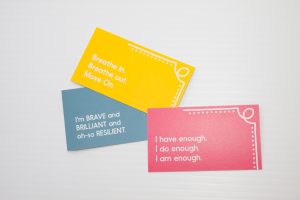 Sure, the focus of my care kits are the care products but when I first began brainstorming what to include, the box didn't feel complete. As a new mom, I have had many days where I felt alone, overwhelmed, insecure and really frazzled, to put it lightly. Sometimes, I would look for blog posts from other new moms who were experiencing similar things. Sometimes, I would chat with a friend. Sometimes, I just needed some words of encouragement to reassure me that I was enough, that I was doing my best and that was fantastic. I wanted to include something in my care kits that offered this encouragement and that could rally someone's inner strength when they most need it.
3 Oh She Glows Vegan Recipes
A big part of my own self-care practice is eating good, nutritious food. This is sometimes a challenge with a baby. It requires some du diligence on my husband and I's part to organize and plan meals and healthy snacks for the week. It's not easy and some weeks we do better than others. One of the motivators for me to plan meals is trying out new recipes (of course, they have to meet three criteria: quick, healthy and simple).
These recipes from Oh She Glows are that. They are also delicious and vegan. I'm not vegan myself but as a service to my body and the planet, I like to eat vegetarian and vegan often.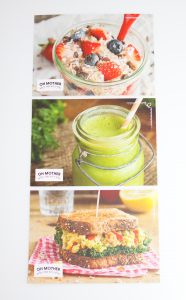 I first discovered Angela Liddon's Oh She Glows cookbook when I was pregnant. My acupuncturist recommended it to me as a wonderful pre-natal diet. I'm so glad she did. I lived on many of her recipes in my first trimester when I couldn't stomach much, especially the overnight oats and smoothie recipes. Her cookbook is still a staple in our household.
Being a big fan, I decided to take a leap and email Angela to tell her about my care kits and to ask about the possibility of featuring some of her recipes in my kits. I was a little surprised and hugely excited to hear back from her right away with an enthusiastic yes! Being a mom and expecting her second child, Angela definitely appreciated and could relate to my story of new motherhood, the inspiration behind Oh Mother and the importance of me time and self-care as a momma. It is so exciting for me to be able to feature Angela Liddon, Oh She Glows recipes in my Summer care kit. Like seriously!? It is so awesome and I know you are going to love them as much as I do.
So this concludes the Summer 2016 Oh Mother Care Kit reveal. If you are reading this and do not have your own kit, need I say, you really should get yourself one! Click here to order yours now.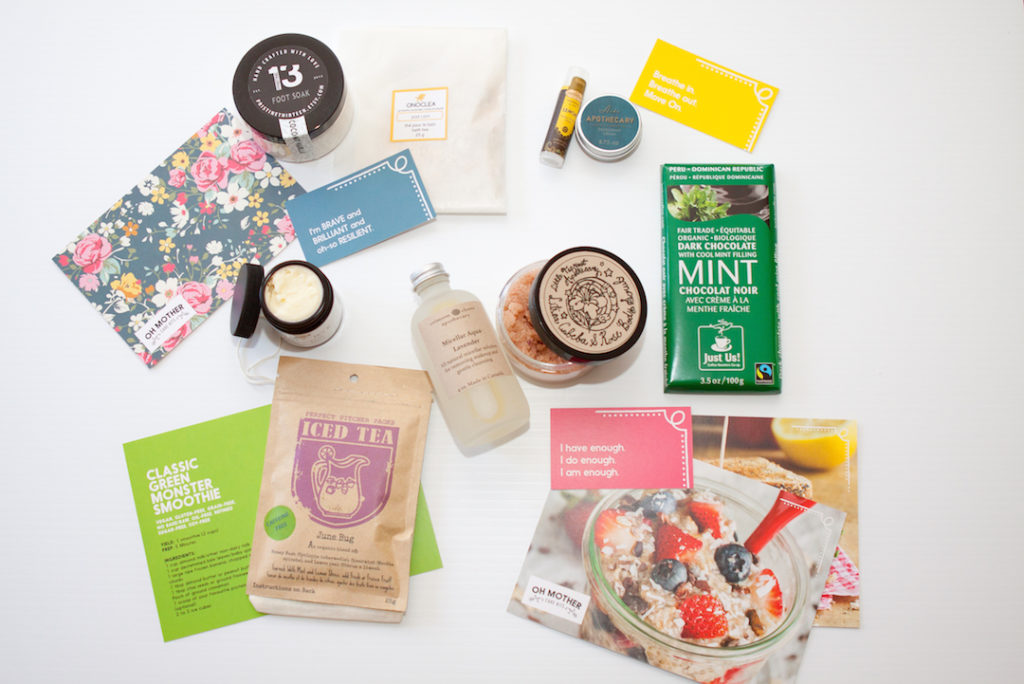 Happy Self-caring!
If you are interested in learning more specifics about the products featured in this box, check out http://www.ohmother.ca/summer16/