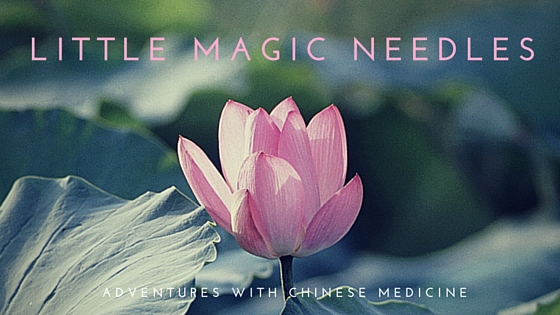 I originally started receiving acupuncture treatment for tension headaches. My chiropractor recommended someone, Dr. Lana Liable. Little did I know how much she would do for my life.
At first, I was apprehensive. I'm not great with needles. In fact, I have fainted on a few occasions when giving blood. I was also a little sceptical. I mean, I believe in holistic medicine to a point, but acupuncture felt like a stretch. What the heck were a bunch of little needles stuck in my body going to do for muscle tension? I was ignorant to the process and the science behind it. I was also only thinking about the immediate problem I was experiencing and not my overall health and well-being.
My first appointment with Dr. Lana was intriguing but strange. She examined my tongue and reviewed my pulse in both wrists, in multiple locations. Then, she proceeded to tell me a lot of things about myself. Things I hadn't conveyed to her in my initial intake form. My immediate reaction was disbelief. How could she possibly infer so much from my tongue and my pulse? I was intrigued, but still weary.
I had spent ten years in the academic, research world, where evidence-based is the standard. Chinese medicine has a much longer history than that of the West, but it is so obscure and mysterious to us Westerners, could I trust it?
After my pulse and tongue examinations, I laid face down on the table and Dr. Lana proceeded to stick tiny needles in various places in my body. While it was neck and shoulder tension that she was treating, she put needles in my legs, feet and hands too. Much to my surprise, I barely noticed them going in and found it incredibly relaxing when I was left to lie on the table for a while. A calming, ocean soundtrack played in the background. All this to say, my first experience with acupuncture was very positive and I knew I wanted to explore these treatments further.
I returned to see Dr. Lana bi-weekly for a few months. She treated my neck and shoulder tension but she also treated several other health issues that I had been struggling with for quite some time.
It's unfortunate how neglectful we can be of our bodies. They endure so much and take on the toxicity of our stress and habits as well. Traumas live on in our bodies, long after we think we've released them.
I definitely took this for granted. I tend to be a sponge for others' pain and suffering. I fight and advocate for the underdog and I care deeply about social justice issues. I have done a lot of work in my life that has been deeply emotional, challenging and equally rewarding. I did this work for a long time without any regard for how its complexity would manifest itself in my life. Ultimately, for me, it resulted in burnout. I wasn't doing enough to replenish my reserves and it caught up to me in a bad way.
Acupuncture was one of several self-care regimens that I integrated into my life at a time when my "burnout" had reached peak impact. Dr. Lana and her little magic needles did a lot for me. She has provided ongoing treatment for digestive problems, respiratory issues, headaches, fatigue, seasonal allergies and reproductive health. She also helped me to grieve and recover from a sudden miscarriage and helped me with nausea, morning sickness, headaches, fluid retention/swelling and sleep when I got pregnant again with my son.
I see many parallels between motherhood and the "heart" work that I was doing previous to having my son. I suspect these parallels exist for other women who are mothers and have careers that involve helping people. Both roles demand a lot of you. They are both intimately human and therefore, subject to critique and subjectivity.. There are no absolutes or finite "solutions" in either. However, we give it all we have.
Acupuncture offers me space to reflect on my body, how I'm feeling, what stress I'm holding and where. My emotional health has a direct impact on my physical well-being and vice versa. Maintaining this relationship takes time and often external insight. Dr. Lana helps me get to the root of the issue and is wonderful at suggesting regimens I can implement at home. She has also introduced me to the delightful YouTube yogi Adriene, the magic of Magnesium Glycinate, the marvellous recipes of Canadian food blogger, Angela Liddon (Oh She Glows), a slant board, the healing properties of essential oils and the use of a moxa stick (all of which I will discuss in further detail in future blogs).
I have experienced a lot of failings by our modern healthcare model. When I began to take more ownership over my body and health, I found myself gravitating toward holistic forms of health largely because they treat the person not just the problem. I appreciate that holistic medicine is about prevention and the maintenance of good health and is not focused on reactionary methods and pharmaceutical band-aids. I also appreciate its philosophies of interconnectivity of the body and mind. Nothing is examined in isolation of the whole. I believe the complexity of the human body and mind cannot be reduced to the examination of one part. One part impacts another part but it also impacts the whole.
As a new mom, I appreciate my time on the acupuncture table that much more. Most days, I am tired and run down but having 45 mins to lie on my back in a softly lit, quiet room while the tiny needles do their magic, it really serves my soul and fills up my reserves.
It's only one hour, once a month but it matters a lot and it reminds me that I matter too. In the chaos of that first year as a mom, it's easy to get swept up and lost in the many immediate demands of a baby. I definitely have to rally sometimes to make it happen but self-care is so crucial to a momma's survival. However infrequent or inconsistent, acts of self-care are challenging to attain but so necessary and hugely rewarding when you make the time.
So I encourage any momma to find something that is accessible and serves your needs right now. Maybe it's an activity like running, yoga or swimming. Perhaps it's getting a massage, receiving acupuncture treatments or going for a pedicure. Or maybe it's taking some time out to read a book alone with a cup of tea. I know I put myself off far too often, I suspect other moms can relate. I'm not doing anything perfectly either. Something I know to be true though is that version one of self-care is better than version none.
Be well Mommas.