Hi Fellow Dad!
You may or may not realize that Mother's day is just around the corner (May 8th). This is my first Mother's day as a dad. For you, maybe you've been a dad for a heck of a lot longer (if yes, please send me tips :).
No matter how long you've been a dad, one thing you learn pretty quickly is how hard moms work.
Be a Hero this Mother's Day!
For Mother's day this year, be a HERO to mom. Get her something better than flowers, better than a gift certificate for a manicure or a pedicure and better than a crazy busy lunch outing with the whole family on what is the busiest Sunday of the year for restaurants.
Give the mom in your life the items she needs to take some much deserved ME time. Moms appreciate the chance to take a beautiful bath with some fancy bath salts, relax with a cup of tea for a moment on their own or pamper themselves with some wonderful skin care lotions.
If you're like me, I don't have the slightest idea where to purchase the right bath salts, lotions or body butters. What is body butter?? But my wife, loves these things! And I'm a coffee drinker so I'm pretty clueless about tea, especially the herbal kind. So the problem as husbands

There's a solution!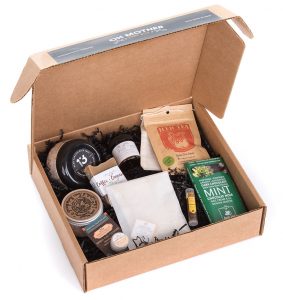 I'm pretty darn excited because the beautiful mom in my life (my wife) has created a Canadian quarterly subscription box designed especially for moms that is packed with lots of luxury, natural care products. It is called Oh Mother Care Kits. Ultimately, she created something that is going to put a lot of husbands in the good books with their wives this Mother's Day!
Giving the gift of an Oh Mother Care Kits subscription means a box full of goodies will be mailed out to your wife every three months so that she can enjoy some time caring for herself. Not only, will she love getting these packages delivered especially to her; when she receives her Oh Mother Care Kit in the mail, opens it and is delighted with its contents, she'll think you're a hero all over again.
So this Mother's day, be that HERO and get your wife an Oh Mother Care Kit Subscription.
Subscriptions start at $69.95 per quarter and until Mother's Day, you can save an extra $10 off your first quarter's care kit. Use the coupon code MAMA10 at checkout.
You're welcome.